Faculty of Economics and Business Administration
Str. Teodor Mihali, Nr. 58-60 400591, Cluj Napoca, Romania
Tel: +40.264 41 86 52/3/4/5
Fax: +40.264 41 25 70

MCCS 10th Edition 2017
MCCS 9th Edition 2016
MCCS 8th Edition 2015
MCCS 7th Edition 2014
MCCS 6th Edition 2013
MCCS 5th Edition 2012
MCCS 4th Edition 2011
MCCS 3rd Edition 2010
MCCS 2nd Edition 2009


Sponsors: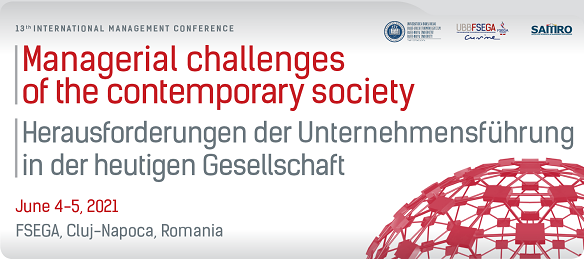 GUIDELINES FOR PARTICIPANTS
The conference language is English, German and Romanian. All participants are expected to contribute with original papers, not submitted for publication elsewhere. Plagiarised papers will not be published in the conference volumes.
It is required for all participants to send the abstract of the paper (English). The scientific committee will select the papers for presentation on the basis of the abstracts. The final papers will undergo a blind review process. Only selected papers will be published in the journal Managerial Challenges of the Contemporary Society. The journal aims to share the creative and innovative ideas supported by empirical data. It also aims to discuss new scientific approaches, strategies and research results, focusing on the challenges encountered and the solutions adopted.
Paper presentation
The language of the paper presentations during the conference is English, German and Romanian. Length of the papers: the papers should be about 7-8 pages and respect the template format.