Accounting and Management Information Systems
Bachelor program in English (3 years; 6 semesters; 180 credits)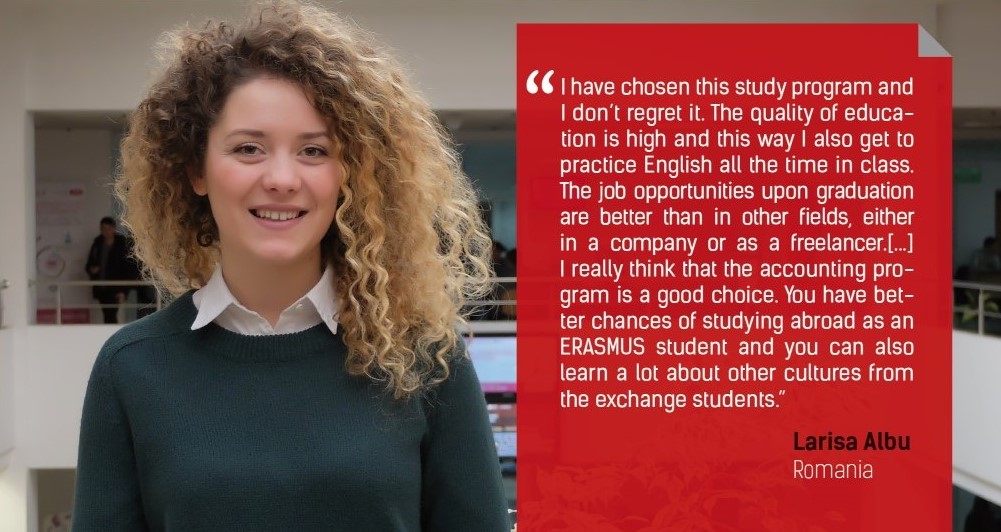 Objectives
---
The program aims to prepare specialists with higher education in accounting and management information systems, both the curriculum and the syllabus being designed to develop students's entrepreneurial spirit, and to ease their integration in the actual business environment after graduation. Internship programs add value to the program by putting to use the theoretical issues learned throughout courses, labs and seminars, all within the context of the economic environment. The program helps students to develop their knowledge, abilities and skills in order to become competent accountants, able to successfully face the challenges of a dynamic business environment.


Contents and structure
---
The program has a curriculum that covers topics focusing on accounting and management information systems, structured so as to develop students' abilities to apply accounting regulations for various types of organizations, to measure performance and assess organizations' competitive positions, as well as to contribute to the development of financial-accounting and fiscal strategies and policies within companies. The curriculum also provides students with competencies related to carrying out economic analyses, syntheses, forecasts and evaluations, handling financial-accounting and management information systems, developing and analyzing financial statements and other financial reports with the purpose of supporting the decision-making process, as well as understanding and undertaking the profession's Code of Ethics and Conduct.


Career perspectives
---
The program prepares students to become professional accountants. It covers theoretical and conceptual accounting matters and teaches them the accounting skills necessary to make them employable in a variety of settings. Thus, after graduation, students can aim for positions within private and listed companies, public institutions and non-profit organizations. Potential jobs may include: certified accountant, financial auditor, assessor, fiscal consultant, certified financial analyst, internal auditor, cost-price analyst, management controller, budget consultant, accounting inspector, credit administrator, banking officer, censor, liquidator, financial guard commissar, financial-banking counselor, financial-accounting specialist, counselor in economic management, databases administrator, IT consultant in financial reporting, programmer analyst etc. Moreover, the program provides the starting point for students' accession to professional bodies in the area such as those representing accountants, auditors and assessors.


International perspectives
---
Graduates have the opportunity to obtain the Chartered Institute of Management Accountants (CIMA) certification for professionals in accounting and finance, within the faculty's CIMA program. Obtaining a certification from CIMA offers graduates the opportunity to enjoy a much better job, companies that employ economists holding CIMA certification usually being multinational companies. Moreover, students enrolled in the program can study one semester at prestigious universities outside Romania, within the framework of the university's various Erasmus inter-institutional agreements, or other inter-institutional agreements allowing students exchange, or international internship programs for students.


Contact person for the study program
---
Assoc. prof. Cristina ŞTEFĂNESCU, PhD
cristina.palfi@econ.ubbcluj.ro


Click here to download the full description and curriculum of the program