Finance and Banking
Bachelor program in English (3 years; 6 semesters; 180 credits)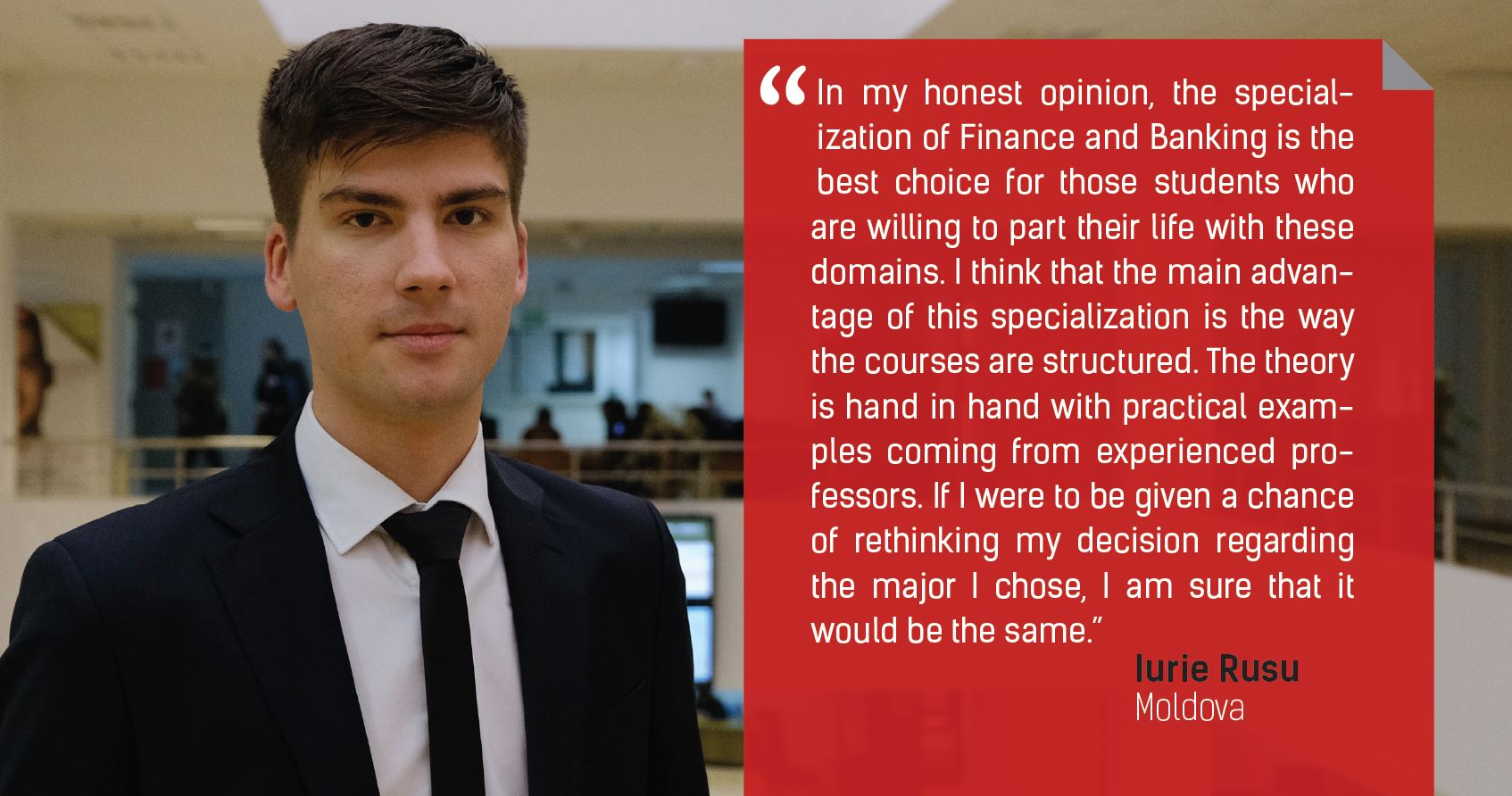 Objectives
---
The main objective of the program is to develop specific skills and competencies for financial professionals, being designed so as to combine theoretical knowledge with practical proficiency in finance, considering the current global development and the challenges to which economies are subjected. The program is focused on developing students' professional competencies in the financial area of expertise such as: applying knowledge, methods, techniques, and instruments in order to perform financial operations and transactions; preparing investment projects, evaluating investment projects, drafting investment budgets; forecasting incomes and expenses at corporative level; identifying and managing risks specific to financial, banking and insurance activities; trading and managing mutual funds, private equity funds, hedge funds and derivative instruments.


Contents and structure
---
The structure of the program is designed so as to transform a high-school graduate into a professional during three years of intensive study. In order to guarantee graduates' insertion in the labor market, the program responds to the increasing expectancies of financial, banking and insurance activities, expectancies which are amplified by the need to respect European organizing and functioning principles. The program has a curriculum that covers topics focusing on acquiring strong knowledge in the field of financial management and planning of corporations, banks and insurance societies, as well as on developing abilities that would allow the graduates to act competently within economic entities, ranging from the management of one's own business to different financial professions in specialized institutions. The financial core curriculum is complemented by elective courses for adjacent economic domains such as accountancy, management, marketing, informatics, statistics and econometrics.


Career perspectives
---
Graduates are prepared to activate in financial institutions and companies, being able to work at different levels in corporations, insurance companies, banks, fiscal administrations, brokerage companies. Due to the continuous growth of financial markets the demand for professionals in this area increases day by day. The financial, banking and insurance sector offers countless hiring opportunities and the skills acquired within this study program qualify its graduates and potential specialists in the field. Potential jobs may include: economist, financial manager, financial analyst, banking expert, financial researcher, broker, financial accountant, actuary, fiscal and banking counselor, insurance inspector, investment analyst, risk control specialist, risk administrator, insurance system specialist, research assistant in finance and banking, product manager etc.


International perspectives
---
Students acquire knowledge and competences that allow them to pursue successful international careers in finance, insurance or banking, the program's curricula being adapted to the exigency of prestigious universities abroad, responding to international standards, and providing a high quality learning experience. Moreover, students enrolled in the program can study one semester at prestigious universities outside Romania, within the framework of UBB-FSEGA's various Erasmus inter-institutional agreements, or other inter-institutional agreements allowing students exchange, or international internship programs.


Contact person for the study program
---
Assoc. prof. Angela-Maria FILIP, PhD
angela.filip@econ.ubbcluj.ro


Click here to download the full description and curriculum of the program