International Business and Economics
Bachelor program in English (3 years; 6 semesters; 180 credits)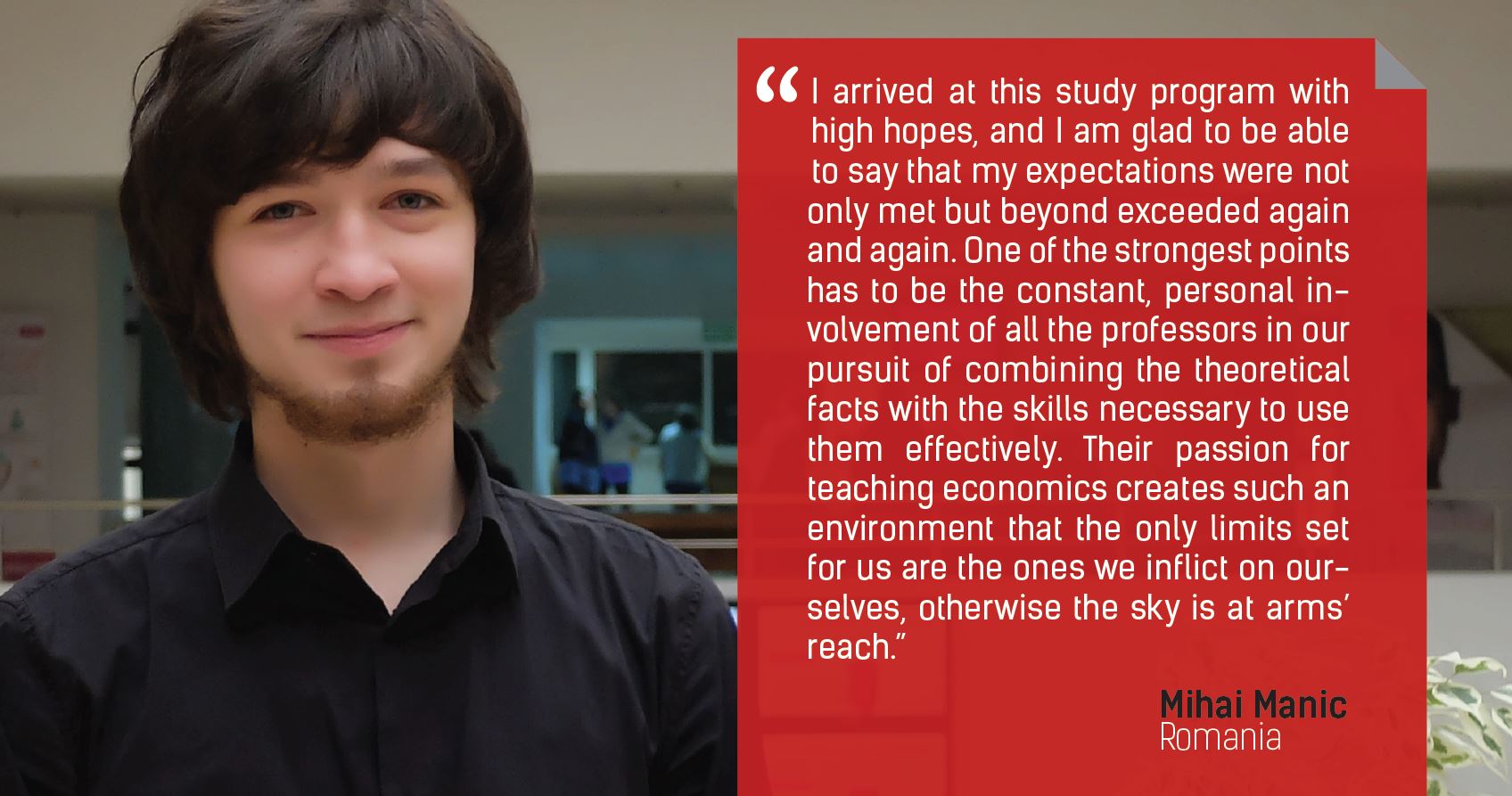 Objectives
---
The main objectives of the program are to prepare specialists for the economy of the future, and to develop general and professional competences needed for the international labor market, in both emerging and developed economies, for private and public sectors. The program is designed so as to develop students' entrepreneurial spirit, communication skills and team work abilities, as well as to provide them with the academic and business competences required for any international business endeavor.


Contents and structure
---
The program offers students an up-to-date curriculum, similar to those offered by top universities in Europe (such as University of Wien, Freie Universität Berlin, Hull University, University of Maastricht, Nottingham Trent University, Bocconi University and ot hers). Topics like microeconomics, macroeconomics, European economics, comparative economic policies, international trade, international investments, multinational corporations, economics and regional development policies, and economic diplomacy represent the core of the program. The program focuses on students' acquiring appropriate knowledge, analytical skills, as well practical professional experience, internships being available at important international companies, under the guidance of academic and professional advisers.


Career perspectives
---
Considering the specific competences obtained within this program, supported by the best academic team in the region, the career opportunities of future graduates are various and attractive, both at national and international level. Potential jobs that are targeted by this program include: business consultant, economist in international trade, expert in investments, customs official, diplomacy consultant, commercial representative, research assistant in international trade, business analyst, customer care assistant, European business consultant and others.


International perspectives
---
Graduates' acquired skills and abilities allow them to pursue successful international careers, as well as to continue their studies within a master program, either at UBB-FSEGA, or in ot her European universities. Moreover, students enrolled in the program can study one semester at prestigious universities outside Romania, within the framework of UBB-FSEGA's various Erasmus inter-institutional agreements, or other inter-institutional agreements allowing students exchange, or international internship programs for students.


Contact person for the study program
---
Assoc. prof. Octavian JULA, PhD
octavian.jula@econ.ubbcluj.ro


Click here to download the full description and curriculum of the program