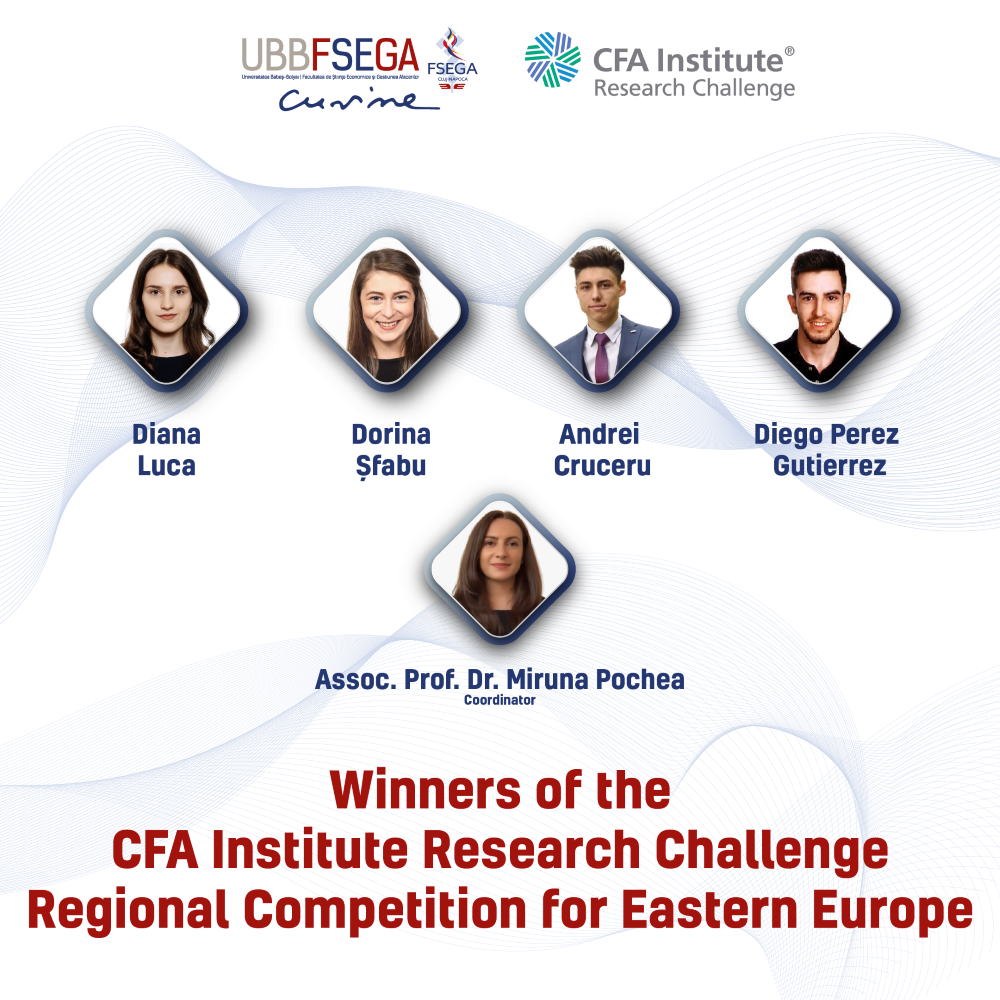 Published: 02 Aprilie 2021
UBB-FSEGA students won the Eastern Europe regional competition of the prestigious CFA (Chartered Financial Analyst) Institute Research Challenge, thus becoming the first team of students from a Romanian university to achieve such a performance.

During this regional phase of the competition, the UBB-FSEGA team outclassed teams from prestigious international universities such as Lomonosov Moscow State University, Charles University in Prague, University of National and World Economy in Sofia, Corvinus University Budapest, University of Economics in Bratislava, or Westminster International University in Tashkent.

Thus, UBB-FSEGA is currently among the only 45 universities that remained in the contest, out of more than 1,100 registered universities at the beginning of the competition. Following this remarkable success, the UBB-FSEGA team will continue its journey to win the EMEA final (Europe, the Middle East and Africa).

The team:
✓ Diana Luca (Banks and Capital Markets specialization, 1st year)
✓ Dorina Șfabu (Banks and Capital Markets specialization, 1st year)
✓ Andrei Cruceru (Management specialization, 3rd year)
✓ Diego Perez Gutierrez (Accounting and Organizations specialization, 2nd year)

Coordinator:
✓ Assoc. prof. Miruna Pochea, PhD (Department of Finance)

Mentor:
✓ Mihaela Luția (Romania CFA Association)

CFA Institute Research Challenge is a competition that gathers the most prestigious international business schools, based on the curriculum of the CFA program which is considered the highest professional standard in investment analysis and research.

UBB-FSEGA students, under the coordination of assoc. prof. Miruna Pochea, have won three of the annual national phases of the competition held in Romania (2018, 2020 and 2021), this year becoming the first in Romania to win the Eastern Europe regional CFA competition.



Other News & Events
Student selection for Erasmus placement mobilities for the period July-September 2021 ... read more Partial Least Squares Structural Equation Modeling (PLS-SEM) Workshop with Marko Sarstedt ... read more International conference "Cluj Economics & Business Conference" (2nd Edition) ... read more International conference "Economics and Business Management" (5th Edition) ... read more International conference "Language, Identity and Communication in Contemporary Society" (1st Edition) ... read more 17th ASECU International Conference: Post-COVID19 in SEE and Black Sea Region - Responses Towards SDGs ... read more Admission 2021: Study programs presentations live video sessions ... read more Student selection for Erasmus mobilities for the 2021-2022 academic year (bachelor, master and PhD students) ... read more UBB-FSEGA students win the Eastern Europe regional competition of the prestigious CFA Institute Research Challenge ... read more International Week: Business Education without Borders (6th Edition) ... read more Lloyd C. Harris, one of the world's most influential researchers, becomes Adjunct Research Professor at UBB-FSEGA ... read more Crafting Exciting Research Projects: Academic Writing Seminar with Marko Sarstedt ... read more Marko Sarstedt, one of the world's most influential researchers, becomes Adjunct Research Professor at UBB-FSEGA ... read more Student selection for Erasmus mobilities for the 2nd semester of the 2020-2021 academic year (bachelor, master and PhD students) ... read more International conference "Marketing – From Information to Decision" (13th Edition; Online) ... read more Approval / issuance of student cards and ID cards (all years) and submission of personal file (1st year, admitted with tuition fee) ... read more Choosing and registering coordinators of bachelor or dissertation theses in the 2020-2021 academic year ... read more Technical aspects regarding the use of the FSEGA Moodle platform ... read more How to attend teaching activities in the 1st semester of the 2020-2021 academic year ... read more Teaching activities in the academic year 2020-2021 ... read more International Summer School on Business Administration (Online Edition) ... read more International Week: Business Education without Borders (5th Edition) ... read more Cluj Economics and Business Seminar Series (CEBSS) - 2019 Spring Edition ... read more UBB-FSEGA: The Best Romanian Higher Education Institution in Economics & Business ... read more Annual Scientific Conference of Romanian Academic Economists from Abroad - ERMAS (6th Edition) ... read more International Conference "Managerial Challenges of the Contemporary Society" (12th Edition) ... read more EGPA International Workshop on Public Sector Financial Management ... read more International Conference "Economics and Business Management" (4th Edition) ... read more International Conference "Marketing - From Information to Decision" (12th Edition) ... read more International Week: Business Education without Borders (4th Edition) ... read more