Crafting Exciting Research Projects: Academic Writing Seminar with Marko Sarstedt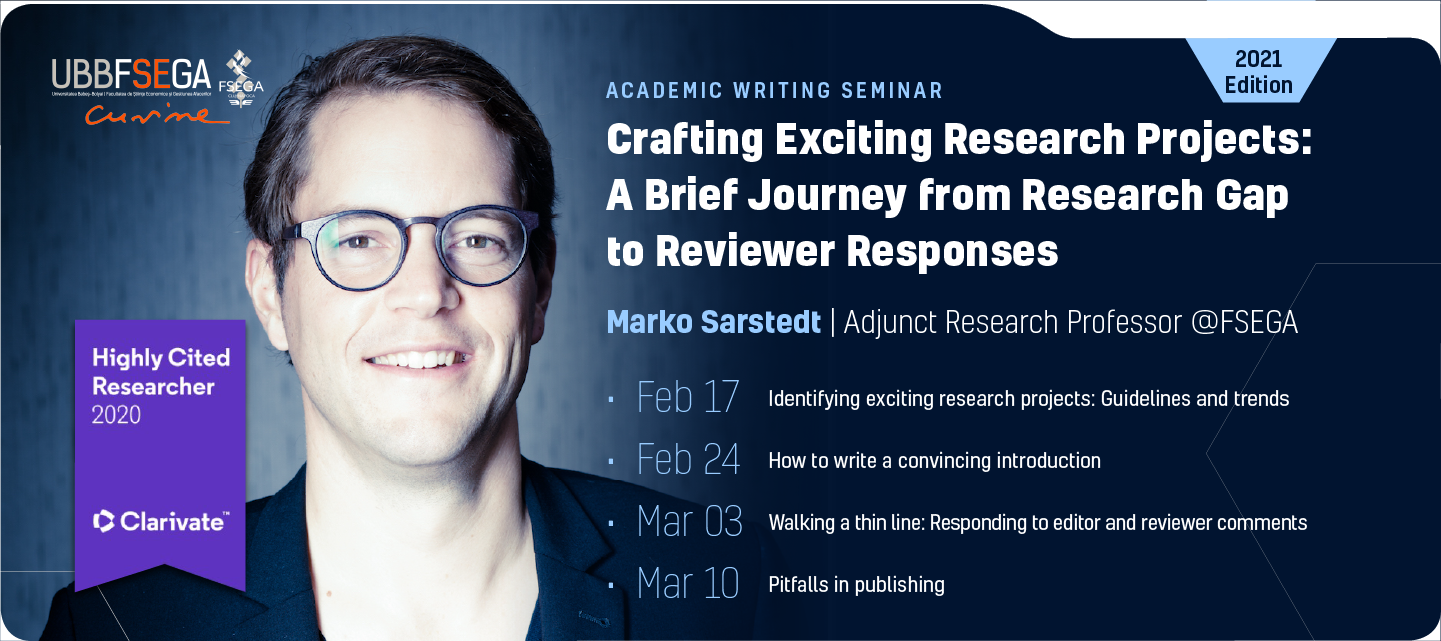 Published: 16 Ianuarie 2021
We invite UBB-FSEGA teaching staff, researchers and PhD students to attend the academic writing seminar Crafting Exciting Research Projects: A Brief Journey from Research Gap to Reviewer Responses, delivered by Marko Sarstedt, Chaired Professor at Otto von Guericke Univerity Magdeburg, and Adjunct Research Professor at UBB-FSEGA.

Marko Sarstedt is one of the world's most influential researchers (among Clarivate's Highly Cited Researchers for the last three years). The methods developed by Marko Sarstedt together with his collaborators have become standards in the field, being widely adopted internationally.

The seminar will be held online, via Zoom.

Program:
✓ Feb 17, 2021 (10.00 – 11.30h): Identifying exciting research projects: Guidelines and trends
✓ Feb 24, 2021 (10.00 – 11.30h): How to write a convincing introduction
✓ Mar 03, 2021 (10.00 – 11.30h): Walking a thin line: Responding to editor and reviewer comments
✓ Mar 10, 2021 (10.00 – 11.30h): Pitfalls in publishing

Participants need to register in the FSEGA Online platform ("Programe de dezvoltare a resursei umane"), no later than February 12, 2021.

Zoom meetings credentials will be sent via email to registered participants, the day before each session.
Other News & Events
Student selection for Erasmus placement mobilities for the period July-September 2021 ... read more
Partial Least Squares Structural Equation Modeling (PLS-SEM) Workshop with Marko Sarstedt ... read more
International conference "Cluj Economics & Business Conference" (2nd Edition) ... read more
International conference "Economics and Business Management" (5th Edition) ... read more
International conference "Language, Identity and Communication in Contemporary Society" (1st Edition) ... read more
17th ASECU International Conference: Post-COVID19 in SEE and Black Sea Region - Responses Towards SDGs ... read more
Admission 2021: Study programs presentations live video sessions ... read more
Student selection for Erasmus mobilities for the 2021-2022 academic year (bachelor, master and PhD students) ... read more
UBB-FSEGA students win the Eastern Europe regional competition of the prestigious CFA Institute Research Challenge ... read more
International Week: Business Education without Borders (6th Edition) ... read more
Lloyd C. Harris, one of the world's most influential researchers, becomes Adjunct Research Professor at UBB-FSEGA ... read more
Crafting Exciting Research Projects: Academic Writing Seminar with Marko Sarstedt ... read more
Marko Sarstedt, one of the world's most influential researchers, becomes Adjunct Research Professor at UBB-FSEGA ... read more
Student selection for Erasmus mobilities for the 2nd semester of the 2020-2021 academic year (bachelor, master and PhD students) ... read more
International conference "Marketing – From Information to Decision" (13th Edition; Online) ... read more
Approval / issuance of student cards and ID cards (all years) and submission of personal file (1st year, admitted with tuition fee) ... read more
Choosing and registering coordinators of bachelor or dissertation theses in the 2020-2021 academic year ... read more
Technical aspects regarding the use of the FSEGA Moodle platform ... read more
How to attend teaching activities in the 1st semester of the 2020-2021 academic year ... read more
Teaching activities in the academic year 2020-2021 ... read more
International Summer School on Business Administration (Online Edition) ... read more
International Week: Business Education without Borders (5th Edition) ... read more
Cluj Economics and Business Seminar Series (CEBSS) - 2019 Spring Edition ... read more
UBB-FSEGA: The Best Romanian Higher Education Institution in Economics & Business ... read more
Annual Scientific Conference of Romanian Academic Economists from Abroad - ERMAS (6th Edition) ... read more
International Conference "Managerial Challenges of the Contemporary Society" (12th Edition) ... read more
EGPA International Workshop on Public Sector Financial Management ... read more
International Conference "Economics and Business Management" (4th Edition) ... read more
International Conference "Marketing - From Information to Decision" (12th Edition) ... read more
International Week: Business Education without Borders (4th Edition) ... read more